Laying Epoxy Floors Over Existing Tiles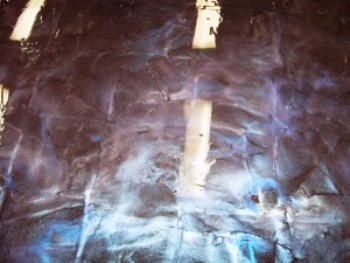 It is often the case that a client wants to install an epoxy coating on a tiled floor. The standard (and often the best) approach is to remove the tiles, thoroughly clean the substrate underneath, repair and grout every crack, hole, and any other damage caused during the removal of the tiles before installing the new epoxy flooring coating on top.
Several people have asked if it's possible to avoid all the extra work and simply install the epoxy flooring coating straight over the tiles. The answer to this is 'yes'. Certainly it can be done. However, it does require some specialised knowledge.
First thing to do is to properly grind the tiles with a diamond grinder. You will note that tiles are primarily smooth, shiny and often coated with a protective varnish. To enable a surface in which to give the best chance of getting the epoxy to stick to the tiles the surface must be roughened/buffed up. Some installers have posed the question of using shot blasting equipment instead. This method can be used, but the main problem with that is that shot-blasting is a relatively powerful process that may well lead to the tiles being dislodged resulting in some unwanted problems.
It is also extremely important to use a low-viscosity epoxy primer with a recognised quality polyamide curing agent. These primer products have a far better penetrating capability than the thicker epoxy primers available on the market and will virtually guarantee the epoxy flooring adhesion to a challenging surface like polished tiles.
Another important issue is dealing with the joints that have a tendency to show after the coating has been installed.  If you just try installing a coating over tiles, the joints will almost definitely show (even when installing a 2-3mm self-leveling screed). The cause of this may not necessarily be the improper filling of  the joints. but sometimes the joints will show simply due to the way light is diffracted and reflected off the epoxy flooring coating.
The most suitable way to deal with any joints problem is to effectively install two self-levelling layers of epoxy. It is okay to have the first one relatively thin at around 1-2mm which can serve as a filling layer. But the finishing coat should be thicker and around at least 2-3mm.
Another solution to joints problems could be to use an epoxy grout to fill the joints, followed by sanding the grout before installing the final coating. I prefer the first solution (two layers of self-leveling epoxy) as it always produces great results. But it will cost you more in materials with a the positive side being that it is considerably less in work effort.